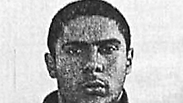 Brussels museum attacker. (Photo: AFP)
Photo: AFP
Hundreds of people paid homage on Sunday to victims killed one year ago at the Brussels Jewish Museum. Four people were killed in the attack by a gunman who opened fire in the museum with a Kalashnikov rifle, killing an Israeli couple, a French woman and a Belgian man.

Crowds gathered in front of the Brussels Jewish Museum to remember the four victims shot last year, surrounded by many police officers and military forces.

The memorial organized by the Coordination Committee of Belgian Jewish Organizations was attended by several Belgian politicians, including Belgian Prime minister Charles Michel.

After paying tribute to the victims, Michel said: "Unfortunately, Europe and Belgium have entered a new era where radicalism and terrorism are threatening the security of citizens. Zero risk as such is a thing that will never exist unfortunately and we are aware of that, but it is possible to take measures to reinforce security and that is what we have been undertaking."

The city's mayor Yvan Mayeur, who also attended the ceremony, said the current measures against radicalism proved to be insufficient. "I am afraid the means are still insufficient, especially if we want to fight against all these young people that are falling into radicalism, and to explain to them that there is no future in going to Syria to fight or continuing the war here. There is no sense in that."

Mayor Yvan Mayeur also renewed his condemnation of the attack saying, "Brussels is Jewish because all Jews have their place in Brussels."

The crowd brought flowers and lit candles in memory of the victims.

French national Mehdi Nemmouche is suspected of having carried out the shooting after spending most of 2013 fighting in Syria with Islamist rebels, French prosecutors said.

Nemmouche has been in custody in Belgium since he was arrested in Marseille and extradited in July.