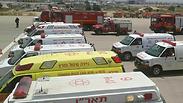 Photo: Israel Airport Authority
Photo: Israel Airport Authority
A commercial airliner made an emergency landing Monday afternoon at Ben Gurion International Airport after experiencing technical issues during takeoff from Sde Dov airport in north Tel Aviv.

Some 80 passengers were on the Israir flight to Eilat. One of those passengers, Sharon, told Ynet, "The captain informed us that one engine was dead and the second motor was working normally and that we were preparing for an emergency landing at Ben Gurion Airport. The plane started turning and going in circles over the sea while the stewardesses started emergency protocols, explaining to us what to do in these kinds of landings and how to sit and bend over in the plane.

"There were lots of children who cried and they panicked, but the atmosphere was mostly OK."

The passengers exited the plane at Ben Gurion and waited for a replacement aircraft to make the trip to Eilat.

The incident was the second such technical emergency in under a week. On Thursday, another Israir flight took off from Eilat with a motor problem and made a safe emergency landing.

An El Al flight arriving in Ben Gurion experienced similar circumstances in April, but again, the landing was successful and all 174 passengers were accounted for.