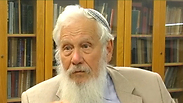 Yisrael Aumann
Photo: Orot
I am so sorry to hear of John Nash's death. I have known John for more than 60 years.
I met him in 1953, when he was a young lecturer who had just started teaching at the university and I was coming to the end of my doctorate. He was the one who first introduced me to game theory. He is my first mentor and teacher on the subject.
The truth is that I didn't give the field much thought at the time because I was busy with pure mathematics. Later, however, when I moved to a performance studies consulting firm, I encountered a difficult problem and then I realized the importance of game theory – and I recalled my conversations with Nash.
John Nash is definitely one of the giants of game theory, which is an important tool in economics and numerous other areas. He invented it, the key concept known as "equilibrium strategy;" and not only did he found the field, but he was also a game-theory giant. And he was also one of the first to receive a Nobel Prize for game theory. It was in 1994, and he shared it with two others. I am shocked to hear of his death.
In recent years, we met at least once a year at international conferences. He knew a lot – not only about mathematics but about everything, and you could talk to him about what is happening in the world.
Nash came to Israel in 1995, on my 65th birthday, which took place at the Tower of David in the form of a celebration and conference. It was a year after he received the Nobel Prize in Economics. The science world and I will certainly miss him.
A mathematician and expert in game theory, Prof. Yisrael Aumann received the Nobel Prize in Economics in 2005 for his work on conflict and cooperation through game-theory analysis.