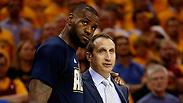 Blatt at the game
Photo: AFP
Israeli basketball coach David Blatt is taking the Cleveland Cavaliers to the NBA finals, after his team crushed the Atlanta Hawks 118-88 on Tuesday to complete a 4-0 sweep of the Eastern Conference Final.

LeBron James scored a game-high 23 points as the Cavs advanced to the NBA Finals for the first time since 2007, where they will play either the Golden State Warriors or Houston Rockets. The NBA Finals start on June 4.

"We've worked our tails off all season to get to the this point, and to be able to represent the Eastern Conference in the NBA finals is the ultimate, especially in this city," James said in a courtside interview. "We'll be ready to go."

The Cavs were bolstered by the return of point guard Kyrie Irving, who had missed the last two games with a knee injury. Irving played 22 minutes and scored 16 points.

A jubilant Blatt paid tribute to his team, and reminded fans of the sacrifices he himself has made.

"I know it's hard for people to understand because they don't really know well my path and career. But you know this also is a new situation for me and a new place for me," Blatt said.

"LeBron came home. I left home to come here. And I left a lot of people that I love dearly and a lot of people I'm so close to in order to pursue a dream, in order to do something in my career that I hadn't had the opportunity to do. That's a big sacrifice on the part of my family and the place I'm from. It's special because it's all worthwhile.

"I came here, had the opportunity to work with a great group of guys, with the best player in the world, maybe in the history of the game, with wonderful management that has given us every opportunity to succeed, and fans that are so loyal and have been for so many years, who just want a champion. So it makes me very happy and proud to be a part of that and have this experience in my life.

More on this topic:

The Israeli-American Council congratulated Blatt on the win, calling him an Israeli-American success story.

"On behalf of all Israeli Americans in the United States, we congratulate David Blatt, the Cleveland Cavaliers and the City of Cleveland on their thrilling victory as Eastern Conference champions of the NBA," said IAC chairman Shawn Evenhaim.

American-born Blatt played basketball at Princeton before making aliyah. In Israel, he enjoyed a successful basketball career before becoming a coach in Israel and Europe.

In Israel, he took Maccabi Tel Aviv to the European championships, before becoming the first American Israeli head coach in the NBA.