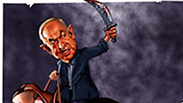 Netanyahu and the bloodied sword
After putting on an exhibition that deal with Holocaust denial, the Iran regime is organizing a new exhibition in which cartoonists are asked to mock the Islamic State group and the atrocities it committed.

According to Iranian news agency IRNA, cartoonists from around the world were told to focus on the "crimes committed by ISIS."

A contest will chose 280 works from some 800 submissions coming from over 40 countries - including Brazil, Australia, Malaysia and Indonesia, contest executive director Mohammad Habibi said.

One cartoon shows ISIS leader Abu Bakr al-Baghdadi with a wild beard made of bloody knives rather than hair, while another work shows two ISIS fighters, one of them holding a regular sword and the other holding a sword shaped like the Facebook logo, indicating on the prominence of Facebook as a tool ISIS uses to spread its propaganda and recruit fighters.

Other cartoons criticize the alleged US aid to the rise of ISIS with its invasion of Iraq in 2003 which overthrow the regime of Saddam Hussein.




Israel also makes an appearance, with a cartoon of Prime Minister Benjamin Netanyahu shown riding an ISIS "monster," holding a bloody sword - this in criticism of Israel's alleged contribution to the strengthening of the terror organization.

Another cartoon shows hands with a Star of David give a massage to the back of an Islamic State fighter lying on top of an American flag.

Habibi told the Tehran Times that well-known cartoonists from all over the world submitted their work for the exhibit, but they used false names for security reasons.

"Nowadays everyone around the world knows about the parasite by the name of ISIS and what crimes they have committed against humanity and art and culture. Artists now have the duty to raise public awareness about this group by participating in such events," Habibi told Iran's Press TV.

Massoud Shoajaei Tabatabaii, one of the graphic artists taking part in the contest, told Press TV the contest was being held "in order to reveal the true nature of Daesh (the Persian name for ISIS)."

"Daesh tries to associate itself with Islam but in essence it has no idea about Islam," Tabatabaii added.