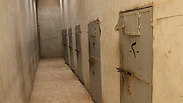 Islamic State fighters published photos Thursday showing the appalling conditions in which opponents of the Assad regime were subjected to in the notorious Palmyra Prison in Syria. After the conquest of the ancient city Palmyra last week, the jihadis posted many pictures of prison inmates in the old city, known for torture and public executions carried out there.

In the photos of the empty prison, after ISIS' conquest of the city, in the wake of which it now controls more than 50% of Syria, windowless cells can be seen. Prisoners were held in them in total darkness, from the moment the huge steel doors were closed. The Daily Mail reported that the only thing that looks like bathrooms in the cells is a small hole in the floor. Mold is clearly visible in the corridor indicating that the building is damp and apparently has no heating during cold Syrian winters.

Assad's Palmyra Prison

The photographs also reveal that prison conditions have not changed for decades, particularly the small cells with no beds and no lighting. From its appearance one could imagine that the prison hasn't been utilized for many years, but in fact only a little over a week ago it was still full of prisoners.

Palmyra Prison is where the terrifying massacre of June 27, 1980 was carried out, after a failed assassination attempt on then-Syrian President Hafez Assad, father of the current ruler Bashar. A day after the assassination attempt, which was carried out by a Muslim Brotherhood member, the president's brother Rifaat Assad ordered his militias to enter the prison and slaughter the inmates. It is estimated that more than a hundred people died in the prison cells and corridors.

Meanwhile, ISIS is itself continuing the atrocities. The jihadis "called people to watch", while executing 20 locals in the Roman amphitheater at Palmyra. The Syrian Observatory for Human Rights (SOHR) reported that the men, whose only fault was supporting the regime, were shot to death in the amphitheater in front of an audience.

Rami Abdulrahman, head of SOHR, said: "ISIS went out of its way to bring a large crowd to show their strength. The men, who were accused of fighting alongside the Syrian regime were executed by firing squad."

SOHR also reported that Jaysh al-Fatah, a coalition made up of fighters from Al-Nusra, the Syrian branch of Al-Qaeda and other islamist rebel groups have almost total control of the Syrian province of Idlib after seizing the city of Ariha.

The city was taken after fierce fighting between Jaysh al-Fatah and Bashar's fighters who are backed up by Hezbollah and Iranian officer. Assad's forces fled to the area near Ariha after having suffered a loss at Jisr ash-Shugur in northwest Syria.

A channel associated with the Assad regime also reported fierce fighting in the city.