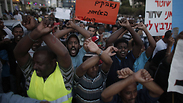 Israeli Ethiopians protest police brutality
Photo: AFP
Concerning data released by the Israel Prison Service this week show an astronomic rate of Israeli Ethiopian teenagers who are jailed at the Ofek detention center in the Sharon Prison, the only detention facility in Israel for under-18s.

Data presented on Thursday to MKs Michal Rozin (Meretz), Meir Cohen (Yesh Atid) and Meirav Ben-Ari (Kulanu) who toured the detention center showed that out of 135 teenagers imprisoned in Ofek, 27 of them were of Ethiopian descent.

When looking at just the Jewish population at the detention center (65 teens) the situation becomes even more concerning - 41.5 percent of Jewish detainees are of Ethiopian descent.

Compared to their high rates in the detention center, the size of the Ethiopian community in the Israeli population is very small and stands at only about 1.7 percent.

Among the Israeli Ethiopian detainees, 11 are serving time for property offenses, seven for assault and intimidation, six for robbery, four for sexual offenses, three for battery, one for manslaughter and one for disturbing the public order.

"This is discrimination and racism, an Ethiopian teenager is arrested based on the color of his skin. They were marked before committing any offense," accused Hadar Tabaga, an activist in an organization aiding risk youth. "No one listens to them and they are not given the right to speak."

According to Ziva Mekonen-Dagu, the head of the Israel Association of Ethiopian Jews, "This is not just a problem of Israeli Ethiopians, it is a problem of the entire Israeli society. No child is born bad, these children become victims. If the welfare system took care of them, these children would not have gotten into these situations."

The data, MK Rozin said, should be "a wakeup call" to the government. "The teenagers who reach this detention center are part of the most discriminated against fringe populations in Israel both in resources and in infrastructure - Ethiopians and Arabs," she said.

Rozin called on the government to increase the resources to these communities and pay more attention to the periphery.