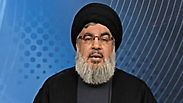 Hezbollah leader Nasrallah. Tensions running high
Photo: Reuters
Israel has in recent days sent calming messages to Iran and Hezbollah, Ynet has learned, stressing that the drills being held this week across the country are purely to practice emergency situations.

The messages aim to prevent a mistaken assessment of Israeli intentions, given the current difficulties experienced by Hezbollah and the Assad regime in Syria, and the possibility of a nuclear deal between Iran and the world powers at the end of June.

The Syrian, Iranian and Hezbollah intelligence agencies have undoubtedly seen the preparations for the exercise, and Israel is concerned that they will interpret it as Israeli preparations for a surprise attack.

Western intelligence analysts recently noticed a growing nervousness among the Hezbollah and Tehran leaderships. The nervousness is likely to lead to assessments that Israel could exploit the situation in Syria and Lebanon to "kill two birds with one stone" - torpedoing the nuclear deal and at the same time removing a real threat to the Israeli home front, in the form of the tens of thousands of rockets and missiles that Hezbollah possesses.

It seems these concerns ahead of the start of the largest annual Emergency Exercise of Israel, "Turning Point 15", which begins today. One source of added concern is that this is the first time that a major drill is being conducted simultaneously by the air, land and sea branches of the IDF – including the simulation of a large-scale conflagration in the north of Israel.

Op-ed: Israel must declare in advance against who it will wage its next war in the north: Not just Hezbollah, but mainly the Lebanese state, its institutions, infrastructures and army.

Iran and Hezbollah have not hidden their concerns about the drill, even going so far as to make them public. For example, last week Rahim Safavi, national security adviser to Iran's Supreme Leader Ayatollah Ali Khamenei, declared that 80,000 Hezbollah rockets and missiles would destroy Tel Aviv and Haifa if Israel dared to attack Lebanon.

In addition, Hezbollah leader Hassan Nasrallah has made three speeches recently, itself a telling sign of not inconsiderable nervousness among the organization's leadership. The speeches only mentioned Israel in a footnote, while in it was the main focus in previous speeches to mark the anniversary of Israel's May 2000 withdrawal from Lebanon. This can be interpreted to mean that for now Hezbollah is signaling that it has no intention of attacking Israel and that its main concern is Islamic State.

But the speeches do also reveal some fears on Hezbollah's part that the problems apparently facing the Assad regime and the organization's members fighting alongside it may give Israel a sense that this is an unmissable opportunity to get rid of the gravest threat to its national security and the physical safety of its people.

This is somewhat of a growing mutual concern, given the regional instability; in Israel, too, there are those who fear that Hezbollah, in a desperate move to divert attention from its failures in Syria, could ignite a war with Israel.

As such, Israel has transfers open and diplomatic messages to Lebanon - and indirectly to Iran – that the drills being conducted this week are for purely defensive purposes, and are not a "cover story" that disguises Israel's true intentions for an attack.

Israeli officials have stressed in background talks and through diplomatic messages that the drill is held every year and that it was planned well in advance, along with the IDF drills being held in parallel.

Israel maintains that the decision to hold two parallel drills came in order to take maximum advantage of resources and to maximize budgetary savings. If the exercises were to be conducted separately, Israel says, the total cost resulting would be much higher due to the mobilization of IDF reservists for both exercises.