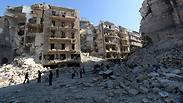 Aleppo after being bombed by Syrian army
Photo: AFP
The United States has accused the Syrian military loyal to President Bashar Assad of carrying out air strikes to help Islamic State fighters advance around the northern city of Aleppo, messages posted on the US Embassy in Syria's official Twitter feed said.

Islamic State fighters pushed back rival insurgents north of Aleppo on Sunday near the Turkish border, threatening their supply route to the city, fighters and a group monitoring the war said.

Fighters from Levant Front, a northern alliance which includes Western-backed rebels and Islamist fighters, said they were worried Islamic State was heading for the Bab al-Salam crossing between Aleppo and the Turkish province of Kilis.

"Reports indicate that the regime is making air strikes in support of ISIL's advance on Aleppo, aiding extremists against Syrian population," a post on the US Embassy Syria Twitter account said late on Monday, using an acronym for Islamic State.

Syrian officials have previously dismissed as nonsense allegations by Washington and Syrian opposition activists that the Syrian military has helped Islamic State's fight against rival Syrian insurgent forces.

"The Syrian army is fighting Islamic State in all areas where it is present in Syria," a military source said.

The United States suspended operations in its embassy in Damascus in 2012 but still publishes messages on the embassy Twitter feed.

The account said Assad had long lost legitimacy and "will never be an effective counterterrorism partner."

Assad and Syrian officials have frequently called for international cooperation to fight jihadists in Syria. Damascus has described all insurgents fighting against it as foreign-backed "terrorist organizations."

State news agency SANA said on Tuesday the military had "eliminated" a number of Islamic State fighters in the Aleppo countryside and that air strikes had destroyed some of the group's vehicles.

But the US Twitter feed said Damascus had a hand in promoting Islamic State, an al-Qaeda offshoot which has seized land in Syria and Iraq.

"With these latest reports, (the military) is not only avoiding ISIL lines, but, actively seeking to bolster their position," it said. Syria has accused its regional enemies of backing hardline insurgent groups.

The Syrian military has carried out recent air bombardments in the province, including inside Aleppo city and on the Islamic State-held town of al-Bab to the northeast, according to the Syrian Observatory for Human Rights monitoring group.

Some rebels have questioned why US-led forces bombing Islamic State in Syria and Iraq have not focused on bombing the jihadists around Aleppo city.

In rebel-held Aleppo, a local council that helps run civilian affairs called on fighters to be ready for battle with Islamic State, the Observatory said on Tuesday, citing a statement.

It called on "all mujahideen" to respond to Islamic State fighters which it said were receiving "air cover from the regime."