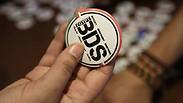 Universities UK, the umbrella group for higher education institutes in Britain, said Wednesday it "firmly opposes" any academic boycott of Israeli universities, a day after the UK's National Union of Students (NUS) voted to back the BDS campaign against Israel.

"The board of Universities UK is committed to the free exchange of ideas between universities and between academics, regardless of nationality or location," the group's statement said. "The board therefore firmly opposes academic boycotts on the basis that they are inimical to academic freedom, including the freedom of academics to collaborate with other academics."

The statement went on to say that "The board also confirms its view that all universities must uphold, in the interests of free expression of ideas, the fundamental right of academics to question national and international policies."

Motion 518, "Justice for Palestine," passed by the NUS on Tuesday, with a majority of 19 votes in favor, 12 votes against and three abstentions.

The motion, passed by the union's National Executive Council, condemns Israel's military presence in the West Bank and Gaza, and mandates the student body to "coordinate a nationwide student day of action to commemorate UN Palestine solidarity Day on 29 November."

The motion accuses the IDF of "directly attacking the right to education in Gaza," noting that "UN schools and the Islamic University of Gaza were amongst the infrastructure Israel targeted during its assault on Gaza."

Prime Minister Benjamin Netanyahu slammed the move on Wednesday.

"Israel has an exemplary democracy," Netanyahu said. "We have academic freedom, press freedom, human rights. ISIS tramples human rights to the dust. It burns people alive in cages and the national student groups in Britain refuse to boycott ISIS and have boycotted Israel."

Israeli legislators discussed the NUS vote to join the BDS campaign at a special Knesset session.

"This is anti-Semitism under new guise with the same symptoms," said Justice Minister Ayelet Shaked.

"There is a de-legitimization campaign against Israel happening right now. These are ephemeral organizations and we need to stop cooperating with them and cut ties, have them pay for their boycotts," she added.

Opposition MKs, meanwhile, blamed the Netanyahu government of taking measures that led the BDS Movement to gain more power. "Those who work in the service of this boycott are members of the Netanyahu government. They are those who impose separation on buses and release videos of Arabs 'going in droves' (to the polls) and claims Arabs are playing games," Meretz Chairwoman Zehava Galon said.

"The way to deal with the increasing boycotting against Israel is not hasbara (diplomatic relations), but putting an end to the occupation," said Meretz MK Michal Rozin. "The government must internalize that the boycott is a wakeup call and not anti-Semitic propaganda against the state."

Moran Azulay contributed to this report.