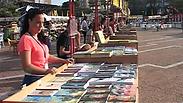 Hebrew Book Week booth (archives)
Photo: Arik Alon
Hebrew Book Week 2015 kicked off on Wednesday, giving Israeli bookworms around the country a chance to enjoy discounts and meet authors.

"Hebrew Book Week is not just an opportunity to enjoy discounts and sales," said Amnon Ben Shmuel, director of the Book Publishers Association of Israel.

"This is true holiday for book-lovers. The opportunity to browse the many booths, to meet the authors signing books at publishers' booths, look at books that haven't been on store shelves for along time, to sit with the kids and enjoy beloved children's plays – this is the true meaning of the long-running and much-loved fair.

This year's fair is the second to be held after the Law for Protecting Literature and Books – which controls the price of a book for the first eighteen months after its release and stops bookstores from offering discounts – came into effect last year.

Two months ago, a report said that last year there was an increase in the price of books and a 12 percent decrease in the number sold.

A bill was proposed last week to repeal the law and allow books to be sold at a discount price immediately after publication.

Culture and Sports Minister Miri Regev declared Wednesday that she would form a committee to review the existing law. She said she had no intention of revoking the law, but hoped to make some changes. The committee is to include two MKs – Tamar Zanberg of Meretz, who is in the opposition, and Yoav Kish from Likud, who is in the coalition.

"Four (books) for 100 is not the most important thing," said Zandberg. She argued that the law helped protect authors and independent stores and would help spur the opening of new stores and chains.

"The people deserve books at a price for the people," said Regev, adding that she was disturbed by the law. "Fewer citizens are going into the bookstores and everyone suffers from it. We have to keep a balance between the price of the book and protecting writers."