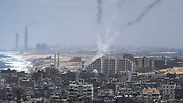 Rockets fired from Gaza (Archive)
Photo: AFP
At least two rockets were fired from the Gaza Strip at southern Israel on Wednesday at around 11 pm local time, with at least one of them falling in an open area in the Sdot Negev Regional Council. No one was hurt from the rocket fire.
The rockets were fired from Al-Shati in the northern Gaza Strip and from the area where the Jewish settlement of Netzarim used to be, near Gaza City.
Gaza media outlets reported drones and airplanes above the Strip not long after the launches.
Before the rockets fell, Code Red sirens were sounded in Netivot, Ashkelon, Bnei Shimon Regional Council and Sdot Negev Regional Council.
Israeli security forces were searching the area for any additional rockets.
Sdot Negev Regional Council head Tamir Idan, said he was in contact with the IDF, "in order to see whether we should prepare for an escalation, or this was an isolated incident."
"Each escalation must be met with force," Idan added. "I hope this time the IDF strikes in a way the other side understands this front cannot be opened. The residents hope for vacation time this summer, and not like last year."
MK Haim Yellin (Yesh Atid), the former head of the Eshkol Regional Council, agreed with Idan. "The rocket fire cannot continue," he said.
"Terror must be struck forcefully and we should not settle for bombing some sand dunes, otherwise we will face pointless wars every summer," he continued.
"Operation Protective Edge ended without a diplomatic agreement - this is a strategic error which must be rectified. We must create a diplomatic mechanism including the US, the European Union and moderate Arab countries, which would set the condition that the Gaza reconstruction would not happen without the Strip first being demilitarized."