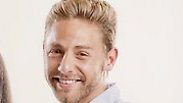 Ido Cohen
Photo: Yuval Chen
StandWithUs is a non-political NGO with an international presence, which is fighting the toughest battles against the BDS movement alongside Israel.
The BDS movement began in 2005, when according to their official website; "Palestinian civil society issued a call for a campaign of boycotts, divestment and sanctions (BDS) against Israel until it complies with international law and Palestinian rights". The movement slowly began spreading as a grassroots movement across the globe, mainly via student groups on college campuses.
The last decade has seen a sharp uptick in the amount of traction gained by BDS and its associated partners. Recently major supermarket chains like Tesco in the UK have begun labeling products made in Israel, while a major Norwegian state fund has divested from Israel companies Danya Cebus and Africa Israel for their involvement in building projects over the Green Line.
The problem posed by BDS has become evident to the top echelons of the Israeli government. So much so that Wednesday saw the Knesset hold a special session on the threat posed by the BDS movement
StandWithUs is a non-political organization with 18 offices around the world including Israel, North
America, the UK, Australia, South Africa, and China. According spokesman Ido Cohen, the organization believes in public diplomacy and as such aims to educate the next generation of leaders to combat the threat of BDS.
Related stories:
Cohen explains that "sometimes people don't know how to answer the hard questions, so the organization aims to give them the tools to become leaders for Israel within their communities."
The organization aims to counter the anti-Israel movement by organizing pro-Israel demonstrations, supporting local Israeli businesses, and aiding student groups on campus in combating BDS resolutions and other actions.
StandWithUs aims to establish peaceful dialogue with the BDS groups, although, Cohen says, this is not always possible. There have been several instances of violence by members of these BDS groups against pro-Israel students and demonstrators.
"BDS isn't looking to promote peaceful co-existence, the opposite they are trying to create a one state reality," he says.
Today the organization functions on a variety of levels, in addition to strengthening communities, StandWithUs sends out delegations once a year to the South African Israel apartheid week, as well as delegations to Australia, Norway, North America, and for the first time this year; China.
"We believe that five percent of people are inherently pro-Israel, five percent are pro-Palestinian, and the remaining 90 percent are undecided. That's our target audience, the people who have not yet made up their minds," Cohen said.
In addition to their projects abroad, StandWithUs trains Israeli students through a leadership fellowship on Israeli college campuses. These fellowship students later host foreign groups in Israel, and go abroad on the organization's international delegations, in order to "show the truth" about Israel.
What do you see as your major weakness in fighting BDS?
"Israel is simply no longer seen as the underdog. The BDS movement is very well organized, and in one case I witnessed students belonging to the Muslim Brotherhood campaigning on behalf of BDS on a college campus in Johannesburg," Cohen says.
Another major issue, he says, is that today "Jewish students who see themselves as liberals join the BDS affiliated groups, granting them a fig leaf of legitimacy in their actions." Certain actions by the BDS movement on campus have been described as anti-Semitic, as was the case with Rachel Beyda, a student at UCLA, whose ability to remain unbiased on the student council's judicial board was questioned due to her Jewish heritage.
While there have been several divestment resolutions passed on college campuses across the US, StandWithUs is putting up a strong fight, including helping supporters of Israel file lawsuits against organizations and bodies involved in BDS activity. The NGO also helps students defeat resolutions on several campuses while training the new generation of leaders who will come to bat for Israel and their communities in their respective countries.