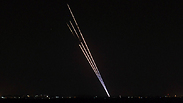 The Israel Air Force struck terror infrastructure in the northern Gaza Strip in the early hours of Sunday in response to a rocket fired at southern Israel the night before.
No casualties were reported in Gaza following the air strike, which struck a Hamas training facility.
Defense Minister Moshe Ya'alon ordered the closure of Israel's two border crossings to the Gaza Strip - Kerem Shalom and Erez - until further notice. Only humanitarian cases will be allowed through.
One rocket was fired from Gaza at approximately 9:40 pm Saturday night, landing in an open area near Ashkelon. No injuries or damage were reported.
A Salafist group which sympathizes with the Islamic State, the "Omar Brigades," who claimed responsibility for the last two rocket attacks on Israel, did so again Saturday night.
The group said the rocket aimed at Ashkelon was in solidarity with Palestinian prisoners held in Israeli jails, and their own members incarcerated in Hamas-controlled jails in Gaza.
"The Jews will never enjoy security and safety as long as we are alive," the group said in a statement.
After a situation assessment, authorities decided that school would be held as normal on Sunday.
Yesh Atid MK Haim Yellin, the former head of the Eshkol Regional Council which is constantly under rocket threat, said following the rocket strike, "Operation Protective Edge isn't over."
"Netanyahu is busy dividing the foreign ministry and rebuilding Gaza without disarming it. That's not how you run a country; that's not how you make sure your citizens are safe; that's not how you fight terror and international boycotts,"
said Yellin.
Ashkelon Mayor Itamar Shimoni also had words for Prime Minister Benjamin Netanyahu. "This is a moment of truth for the Israeli government," he said. "We aren't talking any more about a mistake or one rocket, but the blatant breaking of the cease fire."
The cease fire that was reached at the end of the 50-day Operation Protective Edge last year has loosely held for over nine months, although there have been as many as six rocket attacks in that time.
"The peace that we though would survive in our area after Protective Edge dissolved much quicker than we expected and we can't agree to this kind of reality," said Shimoni. "This is the moment to change it."
Saturday's code red sirens came after the IDF deployed Iron Dome batteries covering Ashdod and Netivot on Friday, following recent rocket attacks from Gaza.
After rocket strikes two weeks ago, Hamas claimed to have arrested those responsible, saying that local supporters of ISIS were responsible.
The recent rounds of rocket fire come as ISIS supporters in Gaza have been openly challenging Hamas, even threatening the ruling group with an ultimatum to end its crackdown on other groups. In response to the ultimatum, Hamas recently killed one of the ISIS supporters in a gun fight that erupted during an attempted arrest.
Reuters contributed to this report.