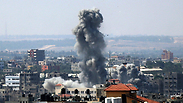 IDF strike in Gaza during Protective Edge
Photo: EPA
As a trickle of rockets fired from the Gaza Strip continues hitting Israel every few days, 82 percent of Israelis foresee another round of fighting against Hamas in Gaza, a poll released Sunday at the Herzliya Conference found.

According to the poll, conducted by Dr. Mina Tzemach and the Midgam Institute for the IPS Institute for Policy and Strategy, half of respondents believe Israel will defeat Hamas in the next round of fighting.

When asked whether Israel defeated Hamas in last summer's Operation Protective Edge, half said yes.

On the northern front, 54 percent of Israelis foresee a confrontation with Hezbollah, with 70 percent of respondents believing Israel will win.

Meanwhile, 42 percent view the Islamic State as posing less of a threat to Israel.

In light of the threats Israel faces, respondents were asked what their position on the defense budget was, with 52.2 percent saying the budget should not be cut. Forty percent of Israeli-Arabs also hold that opinion.

Another topic asked about is the stalled peace process with the Palestinians, with 68 percent saying Israel should renew talks or present its own diplomatic initiative. Seventy-two percent of respondents support the Arab Peace Initiative proposed by Saudi Arabia, which offers Israel peace with the moderate Arab nations on top of peace with the Palestinians.

With regards to this year's elections, 52 percent said they were unhappy with the results that won Benjamin Netanyahu a fourth term as prime minister.