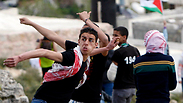 Palestinian youth throwing stones near Bethlehem
Photo: Reuters
A West Bank-based children's rights group on Wednesday accused Israeli security forces of widespread abuse of Palestinian minors in the West Bank.
The IDF swiftly denied the allegations, outlined in a report by a group called Military Court Watch (MCW).
The study estimates that since Israel seized the West Bank from Jordan in the 1967 Six-Day War, "up to 95,000 children" have been detained by Israeli forces in the territory.
The report, submitted to the UN special rapporteur on torture and other cruel, inhuman or degrading treatment or punishment, looks at 200 cases in which minors were detained since 2013.
In its conclusion, MCW found that in spite of recent developments in the military detention system, "ill-treatment is still widespread, systematic and institutionalized."
Citing the testimonies, it said 187 of them had their hands bound during the first 24 hours of arrest, 165 said they were blindfolded and 124 complained of physical abuse.
"Aggressive behaviour, threats and violence are also sometimes utilized during the interrogation, including threats to beat, rape, hold in solitary confinement, electrocute or shoot the minor," it said.
Only eight of the 200 said they were given access to a lawyer prior to interrogation and just seven had a parent present during questioning.
A source in the IDF Prosecutor's Office told AFP there was no legal requirement for either a lawyer or a parent to attend questioning; not for Palestinians and not for Israeli suspects.
But a defendant facing trial was provided with legal counsel and the parents had the right to attend court hearings, the source told AFP, speaking on condition of anonymity.
Regarding allegations of threats and physical abuse, he said defendants or their parents were free to make complaints in open court but "almost never" did.
He said the entire interrogation process, conducted in Arabic, was videotaped and the recordings were made available to the defense.
In the report, a copy of which was seen by AFP, MCW said a "significant number of minors" had been arrested during the night in "terrifying military raids on their homes".
Most children were arrested in areas close to Jewish settlements or to roads used by settlers, which are often a target for children throwing stones.