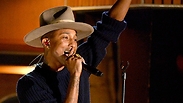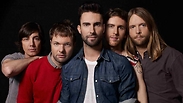 Art Garfunkel performed in Israel on Wednesday, Bon Jovi will be here on October 3, and the list of artists arriving in Israel has now been joined by one of the hottest names in the world of music, American singer-songwriter and rapper Pharrell Williams.

At the moment, the 42-year-old Williams is scheduled to perform at Tel Aviv's Yarkon Park around September 9, a few days before the Jewish New Year.

The talks with Williams are being held by a number of Israeli producers, but a contract has yet to be signed.

Williams is famous for a series of huge hits he released in the past few years, led by his most successful song, "Happy, from the "Despicable Me 2" soundtrack album.

American pop rock band Maroon 5, led by vocalist Adam Levine, has also expressed an interest in performing in Israel this summer. The band members would like to arrive as early as next month, but Israeli producers are hesitant as that would leave very little time for preparations ahead of the show.