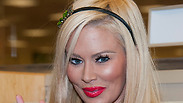 Jenna Jameson says she might even blog about her conversion process
Photo: Getty Images
"I'm coming to Israel soon," former adult film star Jenna Jameson tweeted in Hebrew this week. The 41 year-old mostly-retired actress has recently been embracing her Jewish side, thanks to her Israeli fiancé Lior Bitton.

Jameson seems to be joining the ranks of other adult actresses who prefer the Star of David to the cross. This past Friday the actress cooked her first Shabbat dinner, making Chilean sea bass chraimeh, potato pancakes, Israeli salad, and of course, freshly baked challah.
Made challah again last night (love trying new recipes) turned out fantastic! @YeahThatsKosher @daniopp @JewishFood pic.twitter.com/r0yN7FYWLX

— Jenna Jameson (@jennajameson) June 9, 2015
Jameson's recent affinity for Judaism seems to be rooted in her engagement to Bitton, a Jewish diamond broker from Herzliya who currently works in Los Angeles.

Though Jameson has undoubtedly posted many pictures to the Internet (Google her name at your own risk), her Internet presence has been absorbed lately with pictures of kosher Jewish delights; Strauss popsicles described as "taim," a slow cooker bubbling away with chollent, and Osem kosher soup mixes have all made an appearance on the world's former most popular porn star's Instagram.

Jameson has also announced that she's officially converting to Judaism, and might even blog about her conversion process!

Jameson, while not only learning about Judaism and Jewish culture, is also giving hope to male Jewish teenagers everywhere, showing that yes, it is indeed possible for a Jewish boy to fulfill his dreams and grow up to marry a porn star.

Reprinted with permission from Shalom Life .