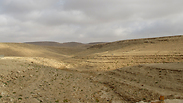 A new future for Mitzpe Ramon?
Photo: Rona Feffer
The Tourism Ministry, through the Israel Government Tourist Corporation, has begun planning and marketing a major hotel complex in the southern town of Mitzpe Ramon in the Negev desert, covering seven plots, which will include about 1,000 hotel rooms.

The decision was made after the District Planning and Construction Committee in the southern region approved a plan named "Mitzpe Ramon Tourist Center, Incense Route." The project is being performed in cooperation with the Israel Land Authority and the Mitzpe Ramon Regional Council.

Ride South

Newly inaugurated southern segment of Israel Bike Trail offers a unique uninterrupted eight-day cycling experience.

The tourist complex is located north of Beresheet Hotel, close to the edge of the Ramon Crater. The plan includes a special definition of an open public area with paths which will serve as a buffer between the hotel grounds and the park which continues the Ramon Nature Reserve.

"I welcome this project, which will boost tourism in the area and open a new stage in the future of Mitzpe Ramon," said Tourism Minister Yariv Levin. "Mitzpe Ramon has a huge tourist potential, and I am convinced that the hotels which will be built in the area will accommodate many Israelis and tourists.

"As a result, the project will develop the employment in the southern region, and serve as a clear example of the huge leverage created by tourism for the economy and employment in the south."

The development of the Mitzpe Ramon area is part of the vision of the Eretz Beresheet vision, which includes the recent inauguration of the final segment of the southern section of the Israel Bike Trail from Mitzpe Ramon to Eilat, which is being promoted by Tourism Ministry Director-General Amir Halevy.