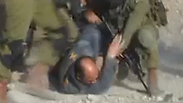 A screenshot from the video
Two IDF soldiers who were documented beating a Palestinian man received a suspended sentence of 28 days in army prison on Sunday, while another soldier who was seen cursing was sentenced to 30 days confinement to the base. The company commander was reprimanded.
Five soldiers of the Haredi Netzah Yehuda Battalion, which secures the Ramallah area, were filmed forcibly arresting a Palestinian demonstrator in Friday's violent incident at the Jalazun refugee camp.
A preliminary investigation into the incident, which was caught on film by a Palestinian cameraman, suggested that the demonstrator tried to grab a rifle from one of the soldiers.
Controversial arrest of Palestinian demonstrator ( )
Questioning of forces on the ground revealed that the Palestinian, who appears at the beginning of the video with a cap on his head teasing the soldiers, attacked one of the soldiers physically and tried to steal his weapon. These actions were both missing from the video released by the Palestinians.
The incident occurred while dozens of Palestinians were throwing stones at the soldiers. One of the stones hit a platoon commander in the eye, leading to his hospitalization.
The battalion commander who was on the scene when the incident took place did not prevent the contentious action towards the Palestinians, and soldiers were heard cursing them and screaming: "Get the cameramen out of here."
Demonstrations take place on regular basis at Jalazun, usually on weekends, near the headquarters of the IDF's West Bank Division. The participants at the demonstrations are mainly children and teenagers who throw stones at soldiers near the settlement of Beit El, but these protests are usually not publicized, despite the fact that Palestinian photographers document them on a regular basis.
IDF forces are instructed to be wary of traps, distance themselves as much as possible from the center of disturbances, respond with riot control measures, and, if deemed necessary, fire at the lower extremities of key instigators.
The guidelines' purpose, apart from preventing demonstrators getting near Beit El, is to prevent Palestinians from succeeding in their effort to delegitimize Israel, which was achieved relatively easily over the weekend, regardless of the outcome of the internal IDF investigation.
At Friday's demonstration, unlike other regular demonstrations at Ni'lin, Bil'in and Nabi Salih, there were no IDF cameramen to document what took place.
The Netzach Yehuda Battalion arrived in the area a few months ago, after having left their permanent area near Jenin, a move made at the request of soldiers in order to prevent fatigue.
The West Bank Division, which oversees the battalion's activity in the sensitive sector, noted that so far there have been no exceptional incidents apart from the aforementioned incident.