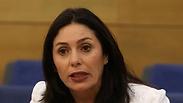 Culture and Sports Minister Miri Regev
Photo: Gil Yohanan
Culture Minister Miri Regev announced on Sunday that she was reevaluating the Culture Ministry's support for next month's Jerusalem International Film Festival after discovering that a new documentary about Yigal Amir, the assassin of prime minister Yitzhak Rabin, will be screened.

"I intend to investigate the matter via a committee that will be formed, together with professional bodies and representatives of cultural institutions, in order to formulate a decision on this question and others questions," said Regev.

'Beyond the Fear' Trailer

The Jerusalem municipality, which financially supports the festival, had yet to decide whether any steps should be taken. "The matter will be examined by the authorized parties in the Culture Ministry," said the municipality.

"The Jerusalem Municipality is not a censor," said a source in the municipality. "The municipality supports scores of cultural institutions that show hundreds and thousands of plays, films, and shows every year. They are not required to submit the script for every play or film to the municipality for approval."

Latvian-Israeli director Herz Frank started making the film causing the controversy, "Beyond the Fear", and was taken on by Maria Kravchenko after Frank passed away two years ago. The film includes the story of Amir's relationship with Larisa Trembolver, who married him in 2004.

Ortal Tamam, the niece of a soldier murdered by a Palestinian, spoke at a meeting of artists on Sunday about the play based on the killer's life. "I recently spoke with

Noah Rothman, Yitzhak Rabin's granddaughter, reportedly said of the film: "Anyone who holds democracy dear should be afraid of this. It's a cynical use of freedom of speech."