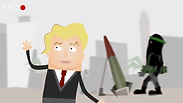 'There are no terrorists here'
Less than 24 hours after releasing its own preemptive report into IDF activity during last year's Gaza conflict, Israel is keeping up its public advocacy campaign on social media. The Prime Minister's Facebook and Twitter accounts have uploaded infographics highlighting the key findings in the report, and the Foreign Ministry has even decided to take things one step further, with a satirical piece of animation entitled "Open your eyes to what is happening in Gaza."

The short video shows a foreign correspondent being interviewed on his perspective on life in the Gaza Strip, while the reality of the situation unfolds behind him.

Israeli-made cartoon satirizing Hamas rule in Gaza ( )

"We are here in the center of Gaza, and as you can see, people here are trying to live quiet lives," says the reporter. "There are no terrorists here, just ordinary people."

Meanwhile, behind him a terrorist carrying a rocket walks past a woman in a burkha with a baby carriage and then launches a rocket.

The reporter then moves on to what he calls "Gaza's underground city", while in the background members of the Hamas military wing carry missiles and weapons, apparently following a sign directing them to Israel, and a poster on the wall reads: "MINIMUM 8 terrorists per tunnel."

"This is a fascinating attempt by Hamas to build a subway system," says the reporter. "This is actually the first Palestinian subway, which will bring Gaza's transportation system into the 21st century."

The third scene in the video shows the foreign correspondent standing in front of a Palestinian with a rainbow flag.

"There is no doubt that the Palestinian society here is liberal and pluralistic, and Hamas allows everyone to live in dignity," says the reporter, as an armed Hamas activist throws a bag over the man's head and carries him away.

The film ends with the appearance of another reporter, who hands her colleague a pair of glasses. "Maybe now you'll see the reality of life under Hamas rule," she says. The reporter dons the glasses, and faints away once he sees "the reality."

The film ends with the second journalist saying: "Open your eyes, terror rules Gaza."