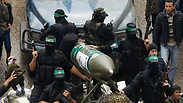 Hamas military parade
Photo: Reuters
According to an AFP report, Israel and Hamas have been holding indirect contacts on cementing a long-term truce in the Gaza Strip, sources in the Islamist movement said Tuesday.

The contacts have gone through a number of Arab and European channels in a bid to firm up an informal ceasefire agreement that took hold last August, ending a 50-day war in Gaza.

"There has been indirect contact between Israel and Hamas, messages passed via Arab channels as well as through European and Turkish sources," one of the sources told AFP, describing it as "an indirect exchange of ideas."

According to AFP the contacts were confirmed by an Israeli source.

Last summer's truce came into effect on August 26, with both Israel and Hamas pledging to resume indirect contacts within a month, in order to strengthen the ceasefire.

The talks started, however were never fully resumed.

"We are ready for an agreement. Hamas wants to solve the problems in Gaza," the Hamas source said.

The source insisted the contacts were purely informal and that there was no formal initiative or proposal on the table.

There has been a frequent exchange of messages between Israel and Hamas, through European envoys; "We received several envoys but it's not officially talks. It's indirect ideas and communication," he said, noting the involvement of a UN official as well as members of the European parliament.

According to AFP an Israeli source confirmed there had been some discussions.

"There are contacts with Egypt and other elements over an easing of the blockade and the entry of materials to Gaza in exchange for quiet," he told AFP.

"But Hamas is finding it difficult to control Islamic Jihad and other elements in order to do this," he said, referring to a flurry of sporadic rocket fire from Gaza, most of which have been claimed by a small Islamic extremist group bent on challenging the ruling Hamas movement.
Ending the suffering
The Hamas source said senior members of the movement had met in Doha over the weekend for talks with the Qataris, while denying remarks attributed to a senior Hamas official which suggested there was a written proposal under discussion.
He said the discussions were about an agreement of five to 10 years, and focused on key issues for Hamas such as ending Israel's blockade, which is now entering its ninth year, and the establishment of a sea passage between Gaza and the outside world.
He did not say whether other Palestinian factions were involved in the talks, such as the Fatah movement of president Mahmoud Abbas which was heavily involved in the Egyptian-brokered talks that ended the conflict.
On Tuesday, Abbas spokesman Nabil Abu Rudeina said that a long-term truce would be welcome as long as it ended the suffering in Gaza.