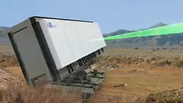 Still from simulation video
Photo: Israel Aerospace Industries
Development of Israel's largest radar system (and one of the world's largest) was recently completed by Israel Aerospace Industries, and details of its design and capabilities have been released.

The radar system, called ULTRA-C1, is not expected to enter the IDF arsenal anytime soon – but like other radar systems developed by IAI, will possibly be used by Israel in the coming years.

IAI simulation video (וידאו: תעשייה אווירית)

The ULTRA-C1 system, which permits high-frequency scanning operations, including in surroundings with high electromagnetic density, comes in three configurations – regular, large, and very large, to meet every mission requirement.

The standard version can locate drones and enemy planes up to 500 kilometers away, while the more extensive models allow rapid and accurate identification of ballistic missiles launched thousands of kilometers away, as well as enemy satellites.

The radar system allows electronic scanning of the area it's "watching" in a way that increases accuracy and identification of targets.

The ULTRA-C1 is portable and relatively light for a system of its size.

The system is designed to function independently, unlike those of Iron Dome or David's Sling, which were developed as part of an air defense system.

At the same time, a senior source at IAI told Ynet that it is possible to synchronize the system with other radars, from the identification phase to the interception stage.

The size of the system, similar to a small office building with four or five stories, provides the advantage of a wide coverage range, making it possible to hone in on and track multiple enemy targets before other radar systems identify them.