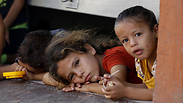 Gazan children during a humanitarian ceasefire in Operation Protective Edge
Photo: AFP
United Nations Secretary-General Ban Ki-moon on Thursday criticized Israel for the death and suffering of Palestinian children during last summer's conflict in Gaza, reiterating his demand for the Israeli government to take immediate steps to prevent such killings.
The UN chief referred to his decision last week not to include Israel on his annual list of parties that kill or injure children in armed conflict in a speech to a Security Council meeting. It sparked protests from human rights groups and many in the Arab world and elsewhere.
Ban didn't address the reasoning behind that decision. Neither would the UN special envoy for children in armed conflict, Leila Zerrougui, who according to UN officials recommended that both Israel and Hamas, which controls Gaza, be included on the list. Zerrougui said she stood by Ban's report.
The secretary-general's latest report said that in the Gaza conflict at least 561 children were killed -- 557 of them Palestinians. It said 4,271 youngsters were injured, all but 22 Palestinians.
The 557 Palestinian deaths were the third-highest death toll of any conflict in 2014, after Afghanistan's with 710 child killings and Iraq's with 679 -- but ahead of Syria's with 368.
While Ban kept Israel off the list, he kept up pressure on the Israeli government at the council meeting to present his report on children in armed conflict.
He expressed deep alarm at the Gaza killings and urged Israel to review its policies and practices and "respect the special protections afforded to schools and hospitals."
In a letter to Ban circulated soon after his speech, Israel's UN Ambassador Ron Prosor accused Zerrougui of "widespread, systematic and institutionalized biased conduct against Israel (which) undermines the credibility of the report."
Prosor said Zerrougi and others drafting the report failed to hold Hamas responsible for launching thousands of rockets into Israel while using Palestinian civilians, including children, as human shields. He also criticized them for preventing Israel from verifying incidents in the report, for giving Israel very little time to comment before the report was finalized, and for ignoring or dismissing most of its remarks and requests.
Prosor called on the secretary-general "to change these working methods to ensure a transparent and credible process in the future."
Ban defended his report, saying the content "should speak for itself."
He said a debate is appropriate "but national interests should not cloud the objective at stake, which is protecting children."
Zerrougui told reporters that Israel has been included in the annual report since 2005, and the same working methods have been used and it never complained in the past.