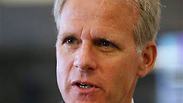 Oren. Fiction in his book befits a preacher in an Evangelical church, not a renowned historian
Photo: AP
Michael Oren's baseless anti-Obama articles
Op-ed: Israel's former ambassador to US presents the two countries as identical twins with an equal standing, which work in agreement and share all their secrets; any change in this intimate relationship is seen as an abandonment and betrayal. That is far from the truth, of course.
Michael Oren is a serious historian. Two of his books, one about the Six-Day War (which was published in Hebrew in 2004 by the Dvir publishing house under the title "Six Days of War") and the other about the American involvement in the Middle East since 1776, rightfully received high professional acclaim.

His new book, "Ally: My Journey Across the American-Israeli Divide," is being published in the United States this week. It is based on his memories from his term as Israel's ambassador in Washington.

Kahlon's Apology

In letter to US Ambassador Shapiro, finance minister distances himself from his party member's comments on US president; Kahlon says Obama stands by Israel and that Israelis are grateful to President.

Two articles published by Oren in recent days have made waves: The first, in the Wall Street Journal, accuses US President Barack Obama of intentionally, maliciously, abandoning Israel; the second, in Foreign Policy magazine, portrays Obama as a person who has been mentally taken hostage by Islam.

"I could imagine how a child raised by a Christian mother might see himself as a natural bridge between her two Muslim husbands," Oren wrote. "I could also speculate how that child's abandonment by those men could lead him, many years later, to seek acceptance by their co-religionists."

Oren is today a Knesset member on behalf of the Kulanu faction. The things he wrote about Obama were so unusual in their style, so blatant, that his party leader, Finance Minister Moshe Kahlon, felt the need to apologize for them in a letter to the American ambassador to Israel.

For some reason, the Americans also expected an apology from Prime Minister Benjamin Netanyahu. Netanyahu refused: If he starts apologizing for every unnecessary comment made by a member of his coalition, he won't have time left to make his own unnecessary comments.

Some of Oren's colleagues, in Jerusalem and in Washington, thought that he had gone mad; others estimated that he is trying to sell his new book this way. The scandal will likely pave his way to embracing interviews in right-wing radio and television channels in America. Synagogue goers won't like him as much. Neither will the book-reading public, I believe.

I telephoned him after the first article was published. I asked him what had happened to him: The things he wrote allegedly contradict, in their style and in their essence, the things I have heard from him over the years. He tried to explain.

His basic claim is that the speech Obama delivered in Cairo in 2009, a speech aimed at courting the Arab and Muslim street over the rulers' heads, while adopting the Palestinian narrative, marked a change in the American foreign policy. The second claim is that the speech was a strategic mistake. Both this claims are true.

What Oren writes beyond that doesn't hold water. The psychological descriptions of the mental affiliation that Obama developed to Islam as a child could have just as easily described an opposite Obama policy. The argument that all of Netanyahu's errors stem from good faith and that all of Obama's errors are intentional is not in line with the facts. Oren should know that.

Oren was an ambassador in Washington from 2009 to 2013. Netanyahu, who appointed him, preferred to work through his protégé, Ron Dermer. Oren was disconnected. He wasn't part of the conspiracy between Netanyahu, Dermer and the Republican billionaires, a conspiracy which contributed greatly to the crisis that was created; he wasn't part of the outrageous welcome that Mitt Romney, Obama's rival, received in Jerusalem. On the contrary: While Netanyahu struck deals with the Republicans, Oren was ordered to nurture the relationship with the Democrats.

His articles are baseless not only on the factual side. They are baseless in understanding history. They present the US and Israel as two countries with equal standing, identical twins, which work in agreement and share all their secrets with each other. Any change in this intimate relationship is an abandonment, a betrayal.

The is far from the truth, of course. The miracle is that although America is a world power and we are a satellite depending on its mercy, although there have been crises throughout the years and one government undermining the other government here and there, the alliance has been maintained.

Obama believed that distancing himself somewhat from Israel's policy, while boosting the security aid and continuing the diplomatic support, would allow him to achieve the peace he and Israel have been hoping for. He was wrong, of course: Netanyahu had different plans; Palestinian President Mahmoud Abbas had different plans. The responsibility for the failure is divided between the three of them. We, as Israelis, should demand responsibility first of all from our prime minister.

All the rest, including the childhood dreams about the Muslim father, is fiction. It befits a preacher in an Evangelical church, not a renowned historian.