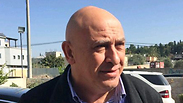 The political storm surrounding MK Bassel Ghattas of the Joint Arab List and his decision to join a flotilla meant to break Israel's naval blockade of Gaza, came to a head Tuesday at a House Committee meeting during which MK Haneen Zoabi, also from the Joint Arab List, was removed during aggressive verbal arguments.

During the meeting MK Sharon Gal from Israel Beiteinu said that the conduct of Arab MKs should be regulated by a formal bill that will be presented to the legislative committee on Sunday inspired by Zoabi's participation in the Mavi Marmara flotilla in 2012 when Israeli commandos boarded the ship and were met with violence.

Haneen Zoabi removed from House Committee meeting (Hebrew):

Video: Ofer Meir (צילום: עופר מאיר)

Members of the Joint Arab List claimed at the event that the flotilla due to set out from Greece has peaceful intentions while MKs from other parties called for Ghattas' suspension in light of his decision participate in the flotilla.

Video: Euronews (צילום: euronews)

The flotilla's organizers met in Greece on Tuesday in preparation to set sail. Ghattas was among them and was interview by Euronews.

In an interview with Ynet, Ghattas called MKs condemning his decision "hypocrites," saying they were "trying to make headlines at my expense. I want to remind them that Israel apologized over the Marmara affair."

The three-ship flotilla, which was organized by Swedish pro-Palestinian activists, will include academics, parliament members, artists and others. Among the participants are Spanish MP Ana Miranda and ex-pat Israeli Dror Feiler - an artist and left-wing activist who has lived in Sweden for many years.