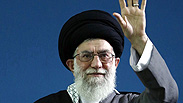 Ayatollah Khamenei
Photo: EPA
A week before the deadline for signing a nuclear deal between Iran and the world's major powers, Supreme Leader Ayatollah Khamenei on Tuesday ruled out freezing Iran's sensitive nuclear work for a long period and said all sanctions imposed on the country should be lifted immediately, state TV reported.
"Freezing Iran's research and development for a long time like 10 or 12 years is not acceptable," Khamenei said in a speech broadcast live. "Sanctions should be lifted immediately when the deal is signed and it should not be linked to verification by the UN watchdog body."
If Khameini truly intends to stand by what he said, then there is no real hope for a diplomatic solution to the Iranian nuclear crisis. Washington and Europe are firm on removing sanctions progressively, in accordance with Iran fulfilling its side of the future deal.
"Inspection of our military sites is out of question and is one of our red lines."
Khamenei also said the US wanted to entirely destroy the Islamic republic's nuclear industry, state TV reported. "America is after destroying our nuclear industry altogether," he said. "Our negotiators' aim is to safeguard Iran's integrity ... and our nuclear achievements during the talks."
Iran and six major powers are trying to clinch a final deal on Iran's nuclear activities by June 30.