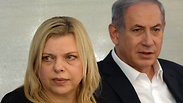 Benjamin and Sara Netanyahu
Prime Minister Benjamin Netanyahu and his wife Sara took participated in the annual memorial ceremony on Tuesday for the prime minister's brother Yoni Netanyahu, who was killed 39 years ago in the hostage rescue mission in Entebbe.

In addition to the prime minister, the ceremony at Mount Herzl's military cemetery in Jerusalem was attended by his brother Ido Netanyahu and his family, President Rueven Rivlin, Knesset Speaker Yuli Edelstien, government ministers, MKs, and the heads of Israel's defense establishment.

"Not many people know this, but in addition to dealing with the already busy annual work plan in the unit, and the surprise terror raids, Yoni took part in planning two major operations," said current Mossad chief Tamir Pardo, who was Yoni Netanyahu's radioman in the operation. "One of them was in the final stages of planning, and the second was only being floated around at the time of his death. Both operations were eventually executed according to his vision. Each one of them can be seen as daring and bold, even today, with their out-of-the-box thinking. Yoni was not able to see his vision become reality; however his vision led to one of the biggest breakthroughs in special ops. That was his way."

The ceremony also included a speech by Sara Guter-Davidson, one of the hostages rescued in the operation. "We didn't know you, Yoni, we did not see your handsome face and radiating personality. We did know where you were from. But for us you are a legend, for us you are the miracle of life, to us you are very real - skin and bone. To us you are the beating heart at home, at a distance of thousands of miles; you are the shoulder to lean on. We came back thanks to you, Yoni, thanks to your friends," she said.

The event included a reading in the words of former president Shimon Peres, who could not attend as he is in Moscow to meet with Russian President Vladamir Putin. "Thirty-nine years ago, when we hoped the radio silence would not be interrupted, and that all our soldiers and the hostages return home without a hitch after completing a mission unmatched in its boldness 4,000 kilometers from home, under all the radar screens, and above the wings of human imagination, the silence was broken nonetheless."

Peres, was was then the defense minister, was the one who sent the IDF on that mission.

"Motta Gur opened the door to my room suddenly, and whispered in a tearful voice, 'he's gone.' Both Motta and I knew in our hearts: Yoni had died. In that same moment, like many before it, Yoni symbolized bravery in our eyes, the impossible, the people's hopes, he who knew more angst than moments of joy. He lives in my heart, like in the hearts of the people, not only as a wonderful figure, but also as a silent hope. That in that moment of disrupted silence, his unique voice stands out among our people."