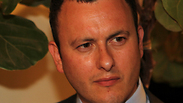 Outgoing British Ambassador to Israel Matthew Gould
Photo: Mati Milstein
This is my last week in Israel. In a few days Celia, Rachel, Emily and I will be leaving Israel for good. We have been here almost five years. Rachel and Emily were born here. We have made many friends, done many things, accumulated many happy memories.

Our time in Israel has been a privilege. It has been a huge honour to be the first Jewish Ambassador from Britain, the country that gave my grandfather refuge, to Israel, the homeland of the Jewish people.

Interview

Ambassador Matthew Gould tells Calcalist, 'There is enormous potential for Britain to use Israel's innovation.' British-Israel Life Sciences Council demonstrates UK government's opposition to boycotting Jewish state

It has been an honour to build and guard the friendship between our countries, to help us strengthen our partnerships and navigate our differences.

I have been struck that on a number of issues to do with our relationship with Israel, there is a clear consensus.

First, as I wrote here two weeks ago, that Britain is a friend of Israel. In particular, that we oppose attempts to delegitimize Israel. We reject those who seek to call Israel's very existence into question, or to deny Israel its right to defend itself. And we reject clearly calls to boycott Israel.

Second, that we will continue to build the security partnership. We face common threats, from terrorism to proliferation. We will continue to work together to tackle them, even as in some cases like Iran's nuclear program we disagree on the best way to handle them.

Third, that we will continue to grow the economic partnership. In the past few years trade has grown sharply. More and more Israeli companies have invested in Britain. More and more British companies have invested in Israel. Dozens of scientific partnerships have been established. Scholarships and fellowships have been established for Israelis to study and research in the UK.

Fourth, that we will continue to build the UK-Israel partnership in technology. In recent years numerous British companies have been forging alliances with Israeli innovation in a partnership that is hugely to the benefit of both sides, from agritech to pharma to financial tech to Arabic digital content. Increasing numbers of Israeli tech entrepreneurs are finding that they can take their innovation global through partnerships with Britain. Increasing numbers of British companies are finding that Israeli innovation can give them a global edge.

And last, that we want to see progress towards peace. We know that the road to peace is not easy, that the answers are not straightforward, and that it takes two sides to make peace. Bu we also know that in the absence of progress towards peace, Israel loses support, and peace becomes even harder to achieve.

Israel is a wonderful, unique posting for diplomats. Always interesting, often a little bit too interesting. Israel packs in more politics, innovation, history, controversy, nature and beauty to each square kilometre than anywhere else I know.

We have travelled the length and breadth of the country, and even now we know we have only scratched the surface. As we prepare to leave, Celia and I know that nowhere will be quite the same.

And as we prepare to leave, this is a good moment for me to say thank you to this country that I love and its people.

Thank you to all of you, our friends, who have made our posting here so special. You have made this posting come alive for us. You have shown us warmth, and kindness, and great hospitality, and aggressive driving. We know we will take with us many memories, and also many friendships that will not end when we fly back to London.

And as I prepare to leave Israel, I am reassured to know that my successor as Ambassador to Israel, my good friend David Quarrey, will continue to build and guard the friendship, partnership, understanding and trust between Britain and Israel. And happy that my daughters have already made me promise we will come back often to visit.

Matthew Gould served as the British ambassador to Israel from 2010 to 2015.