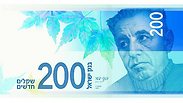 The Bank of Israel will introduce a new 200 shekels bill into circulation in early 2016, which will be blue and feature the image of poet Nathan Alterman.

The 200 shekels bill will be the second in the series of four new bills. The first one, a green 50 shekels bill featuring poet Shaul Tchernichovsky, went into circulation on September 16, 2015.

The new banknotes all include strict security markers to help prevent forgery and to make it easier to identify fake bills.




On the front of the bill, the words to Alterman's song "Eternal Meeting" will be printed next to his image in small text, which could only be read using a magnifying glass.

The back of the bill will feature an image of vegetation at night and excerpts from Alterman's "Morning Song."

The bills in the new series all include signs for the blind and visually impaired, including different lengthes to each bill, a symbol in ink that sticks out on the bill's margins and a transparent symbol that can be felt.

Before introducing the bill into circulation, the Bank of Israel sent samples of the bill to manufacturers, suppliers and vending machine factories.

The Bank of Israel will release the bill's final design in early 2016, shortly before introducing it into circulation.

Nine months after the new 50 shekel bill went into circulation, it has become more common than the old bill. Existing bills will still be in use for three to five more years, after which they could be exchanged for new bills at Bank of Israel branches.

New 20 shekels and 100 shekels bills are expected to be gradually introduced in the coming years, featuring the images of poets Leah Goldberg and Rachel the Poetess.