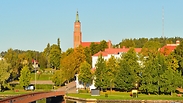 Finland
Photo: Shutterstock
The Israeli Ecoland Group has purchased the island of Petajasaari in Finland, worth NIS 16 million (after construction), and is planning to build an ecological resort village on the island exclusively for Israelis.

"We have already sold 12 houses," says entrepreneur Amir Weil. "In Tel Aviv it's hard to find an island."

Environment Friendly

New building to include smart lighting system, recycled use of gray water for irrigation or cooling, charging spots for electric motor scooters, etc.

Ecoland is a unique real estate group which specializes in marketing rare nature lands. The group is headed by entrepreneur Aviad Scheibitz, a patent inventor, as well as Amir Weil and Moti Shemtovi, the owners of Shemtovi-Weil Entrepreneurship Construction & Engineering, which is active in European markets and in the United States.

Ecoland is the first company in its field which promotes real estate investments in Finland among the Israeli public. It says its goal is to provide each person with a peaceful place to relax in and connect to nature. The company only markets lands which have been examined by local professionals, focusing on the connection to nature and on respect towards nature. No heavy machines will be used for the construction, and no roads or pavements will be built.

The island, which was purchased from a church, is located near the municipality of Kaavi and covers an area of about 40.5 acres. The company plans to build 40 ecological housing units.

The average cost (for the land plus ad cabin) will be about $100,000. Only wooden cabins will be built on the ground, covering an area of 40 to 60 square meters, in accordance with the forest rules. A club serving the residents will be built on another area in the island, and the company is also planning a small restaurant which will be operated during the summer, a shop for basic equipment and a meeting place for the entire community.

In addition, there will be shared forest facilities, such as an ecological playground and a park with benches for strolling and resting, fishing and sailing activities in the lake, and more. In the nearby city, residents will have access to restaurants, shows, a ski resort, culture and entertainment activities and many tourist services.