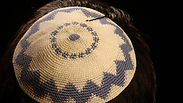 Illustration
Photo: Index Open
Seventy years after the Holocaust, the number of Jews worldwide is close to returning to what it was before World War II - nearly 16 million Jews, a report issued by the Jewish People Policy Institute (JPPI) has revealed.

Before the Holocaust, there were some 16.6 million Jews across the world. After the Nazis' mass extermination, only around 11 million Jews remained in 1945.

According to the report, since the end of the war in 1945, the number of Jews in the world consistently increased, reaching some 14.2 million in early 2015. The past decade, between the years 2005-2015, saw the biggest jump since the end of the war, with an over 8 percent increase.

These estimates are based on halacha criteria for those living in Israel and self-identification for those living outside of Israel.

Two other sub-groups that could be included among the Jewish people are immigrants to Israel and descendents of Jews who are not considered Jews according to halacha law and are defined "irreligious" (350,000), and "partial Jews" who live mainly in the US - mostly descendents of mixed couples - who number at some half a million.

Adding these groups to the tally would bring the number of Jews worldwide to nearly 16 million.

In 1948, Jews were 82 percent of the population in the newly-created State of Israel. By 1958, Jews were 89 percent of the population. Since then, however, there has been a gradual decline in the rate of Jews in the general population, bringing them to only 75 percent in 2015.

Outside of Israel, where about 6.1 Jews live, the largest Jewish population is in the United States. In 1957, there were 5 million Jews in the US, a number that increased to 5.7 million in 2013. This fairly minor increased is caused by a balance of a low birth rate on the one hand and positive immigration rate on the other.

The JPPI, an independent think-tank based in Jerusalem, will present the 11th annual report to the government on Sunday. Alongside the demographic aspect, ministers will hear about issues affecting Israel-US ties and be briefed on Israel's ties with the Diaspora.
Jews worldwide
Israel – 6,103,200
United States – 5,700,000
France – 475,000
Canada - 385,300
Latin America – 383,500
Britain – 290,000
Russia – 186,000
Germany – 118,000
Australia – 112,500
Africa – 74,700
South Africa – 70,000
Ukraine – 63,000
Hungary – 47,900
Iran – 20,000
Asia – 19,700
Romania – 9,400
New Zealand – 7,600
Morocco – 2,400