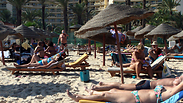 At least 37 people, including foreign tourists, were killed when at least one gunman opened fire on a Tunisian beachside hotel in the popular resort of Sousse on Friday, an interior ministry spokesman said, while the Islamic State group claimed responsibility for an explosion that killed at least 25 and wounding 227 at a Shiite mosque in the Kuwaiti capital - all a part of a day marred by international terror attacks.

France was also shaken by an attack Friday that resulted in the decapitation of a least one man while several others were wounded. Islamic State supports are also suspect in the attack on a gas factory near the city of Grenoble.

Spain also raised its terror alert level to "high" after the attacks and the US urged civilians in France to remain "vigilant", as a Pentagon spokesman said it was too early to say if the three attacks in Tunisia, Kuwait and France were coordinated.

Col. Steve Warren condemned "these terrorist attacks" and said the Pentagon will continue to work with international partners to fight the Islamic State group and other violent extremist groups.

He noted IS has claimed responsibility for one attack, but said the Pentagon continues to look into "whether or not these various and far flung attacks were coordinated centrally or whether they were coincidental."

Tunisia's wounded. (צילום: רויטרס)

British Prime Minister David Cameron said his emergency response committee would meet later on Friday to discuss the events in France and Tunisia.

He expressed his solidarity with the French people over the assault on a gas factory and said he hoped to speak later with the Tunisian government to offer sympathy and condolences over beach hotel shootings in the resort of Sousse that have left at least 27 people dead.

"This is a threat that faces all of us, these events that have taken place today in Tunisia and in France, but they can happen anywhere - we all face this threat," he told reporters.

Police in Tunisia were still clearing the area around the Imperial Marhaba hotel Friday afternoon and the body of one gunman lay at the scene with a Kalashnikov assault rifle after he was shot in an exchange of gunfire, a security source at the scene said.

It was the second major attack in the North African country this year, and took place during the holy Muslim month of Ramadan. At least five British nationals were said to be among the dead alongside German and Belgian citizens.

"One attacker opened fire with a Kalashnikov on tourists and Tunisians on the beach of the hotel," said a hotel worker at the site. "It was just one attacker. He was a young guy dressed in shorts like he was a tourist himself."

Tunisia, which has been hailed as a model of democratic transition since its 2011 'Arab Spring' uprising, is one of the most secular countries in the Arab world. Its beach resorts and nightclubs on the Mediterranean are popular with European visitors.

No one immediately claimed responsibility for the attack.

Meanwhile, Kuwaiti Prime Minister Sheikh Jaber al-Mubarak al-Sabah said on Friday that the suicide bombing at a Shi'ite Muslim mosque in the capital was an attempt to threaten the country's national unity.

"This incident targets our internal front, our national unity," Sheikh Jaber told Reuters after visiting the wounded at the Emiri hospital. "But this is too difficult for them and we are much stronger than that."

The Islamic State claimed responsibility for the attack even as it continued its recently renewed offensive against the Syrian government and Syrian Kurds, reportedly killing at least 145 civilians in the northern city of Kobani in what a monitoring group described as the second worst massacre carried out by the Islamic State in Syria.

AFP contributed to this report.