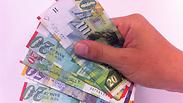 The Israeli shekel was dubbed the 'World's Worst Currency' by Bloomberg on Thursday, following a week of sharp ups and downs that saw it climb 2.1% and then drop 0.8% in value.

The shekel fell to 3.7754 on the USD, leading it to become the most depreciated currency of the 30 major world currencies Bloomberg experts track across the world.

The Bank of Israel purchased roughly $200 million to quell the increase in the shekel's value, but the intervention raised doubts about the currency's value in the market.

"It's the Bank of Israel against the market," Yariv Shalev, a currency specialist at Mercantile Discount Bank in Tel Aviv, told Bloomberg. "The central bank will continue to buy but we don't see the dollar/shekel coming back to levels we've seen in the last week. The market does not believe in the interventions, and it knows the Bank of Israel is very limited."

According to the report, the central bank requires foreign-exchange purchases to control the shekel's strength after comments made by BOI chief Karnit Flug, who on Monday cited concerns around a lack of export growth.