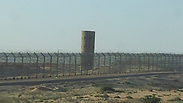 Border with Egypt
Photo: Yoav Zitun
Israel's security cabinet has approved extending the fortified fence along its Egyptian border into a section of the frontier with neighboring Jordan, Prime Minister Benjamin Netanyahu said on Monday.

Jordan and Israel closely coordinate security for their 240 km (150 mile)-long border as well as for the strategic 95 km (60 mile)-long Jordan Valley within the West Bank.


But the Netanyahu government worries that African immigrants and armed jihadi infiltrators might try to reach Israel via Jordan after the Egyptian Sinai border was fenced off with a 5 meter (16 foot)-high razor-wire barrier in 2013.

That fence runs from the Palestinian Gaza Strip to the southern Red Sea resort of Eilat.

Briefing Israeli lawmakers, Netanyahu said his security cabinet on Sunday gave the green light for a new 30 km (18 mile) stretch of fence that will run northward from Eilat along a now often porous Jordanian border.

He said the fence would help protect an Israeli airport due to open next year at Timna, 19 km (12 miles) from Eilat, and which has been billed as a wartime alternative should Tel Aviv's Ben-Gurion airport come under rocket attack.

"This is an important matter. It is part of our national security," Netanyahu said.

"It is an addition security fence we built along our border in the Sinai, which prevented the entry of illegal infiltrators into Israel, and of course of the various terror organizations. This step is also an addition to the fence we built on our border in the Golan Heights.

The fence, he said would go up in Israeli territory, "without in any way harming the sovereignty or national interests of the Hashemite kingdom of Jordan".

Israel signed a peace treaty with Jordan in 1994 and one with Egypt in 1979.

The country has already built high-tech fences in the north on the Lebanon border and along the Golan Heights boundary with Syria. Much of the West Bank is also divided by a network of fences, barriers and walls, while the Gaza Strip is closed off behind high fences and walls.

A fence along the Jordan frontier would leave Israel surrounded by a steel and concrete ring.