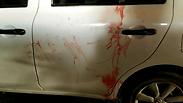 Scene of the attack
Photo: Tazpit
One Israeli was seriously wounded and three others suffered moderate wounds on Monday night when they came under gunfire at the Shvut Rachel junction near Shilo in the West Bank.

Magen David Adom paramedics who arrived at the scene evacuated two of the wounded - one serious and one moderate to the Shaare Zedek Medical Center in Jeruselm, and two others moderately wounded to the Hadassah Medical Center in Jerusalem's Ein Karem. All four, in their 20s, are suffering from bullet wounds to both upper and lower bodies.

Attack site (צילום: עופר מאיר)

The seriously wounded man was operated on overnight at Shaare Zedek Medical Center. He was hospitalized in intensive care.

The car was reportedly travelling north bound when the perpatrators opened fire.

The IDF set up roadblocks and checkpoints in the area and large forces from the Judea and Samaria division, including fighters from the elite Special Forces Duvdevan Unit, were searching the area for any leads to the terror cell who committed the attack.

Initial investigation raised two possible lines of inquiry - one of a drive-by shooting, and the other that it was an ambush which included an escape vehicle for the cell members.

This is the fourth attack in four days and the sixth terror attack since the beginning of the holy month of Ramadan ten days ago.



Acting Samaria Regional Council head, Yossi Dagan, said after the attack: "Recently we've been witnessing a concerning increase in serious terror attacks: The stabbing of the soldier this morning at Rachel's Tomb, the shooting on the MDA ambulance on Highway 60 over the weekend, Molotov cocktail being thrown at buses, and the cold-blooded murder of Danny Gonen near Dolev. We must stop this phenomenon before things deteriorate further. We will not allow terrorists to harm our citizens and we demand the Israeli government to allow the IDF to act without mercy against those savages who are turning civilians into targets. The term 'trickle' with regards to terrorism is a lie. We are not willing to get used to this situation in Judea and Samaria as it happens and has been happening for years with the rocket fire in the south."



Meanwhile, shortly after the attack, stones were thrown at an Israeli vehicle at the Hizma checkpoint on Highway 60. No one was hurt and security forces were searching the area for perpetrators.



On Monday morning, a Palestinian woman attacked a female IDF soldier, stabbing her in the neck at the Rachel checkpoint near Rachel's Tomb in Bethlehem.

The attacker, 20-year-old Misoun Mussa from Bethlehem, was not known to security forces and does not have a criminal record.

Mussa was found to have two other knives on her person. During questioning by the Shin Bet, she said she arrived at the crossing to kill a soldier. The initial assessment was that she acted alone.