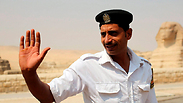 An Egyptian police officer near the pyramids. (Photo: Reuters)
Photo: Reuters
Egyptian security and military officials said on Wednesday that Islamic militants staged simultaneous attacks, including a suicide car bombing, on army checkpoints in northern Sinai, killing at least 100 including soldiers and civilians.

An Egyptian newspaper said that 64 soldiers and police officers had been killed. While Hamas said that its border with Egypt would be reinforced by extra military operatives.

Islamic State's Egyptian affiliate claimed responsibility for the attacks in a statement on Twitter.

An Egyptian military spokesman said battles were ongoing and that airstrikes against terrorist were also continuing.

The Egyptian military issued a statement saying that 70 terrorists had participated in attacks on five checkpoints. It said it returned fire, killing 22 terrorists and destroying three vehicles.

Egyptian media outlets reported that the coordinated attacks in northern Sinai included three suicide bombings.

Officials said militants also took soldiers captive and seized several armored vehicles. Al Arabiya reported that the Egyptian military was boosting its forces in the northern Sinai and the area bordering Gaza. Meanwhile, the Egyptian Defense Ministry announced a level three state of emergency.

Witnesses told Egyptian media outlets that the town of Sheikh Zuweid felt like a warzone, with battles between the IS-affiliated militants and security forces. According to these reports, the militants mined roads in order to limit movement and placed explosive charges around the police headquarters, preventing law enforcement from leaving.

"We are under siege," a source in the police station told one outlet. The source denied unverified reports that the town had been fully overrun.

The attacks came just two days after the assassination in Cairo of the country's top prosecutor. President Abdel-Fattah al-Sisi vowed on Tuesday to step up a two-year crackdown on militants.

Militants in northern Sinai have battled security forces for years but stepped up their attacks following the July 2013 ouster of Islamist President Mohammed Morsi.

Al-Sisi, then the nation's army chief, led the ouster and went to become Egypt's president, winning a landslide election a year ago.

Wednesday's attacks came in swift response to al-Sisi's pledge the previous day to carry out justice for the prosecutor general's assassination -- and possibly move to execute Muslim Brotherhood leaders, an Islamist group from which Morsi hails.

Pounding his fist as he spoke Tuesday at the funeral of Barakat, who led the prosecution and oversaw scores of cases against thousands of Islamists, Al-Sisi's comments seemed to signal an even tougher campaign on the Brotherhood, Egypt's oldest Islamist group that is now outlawed and declared a terrorist organization.

Egypt has since Morsi's ouster waged a crackdown that has led to thousands of arrests, mass convictions and death sentences. Morsi is among those condemned to die, but has a potentially lengthy appeal process ahead of him.

Al-Sisi said the government was ready to brush aside criticisms and free the judiciary's hand for a "battle" the country is prepared to wage.

"The judiciary is restricted by laws, and swift justice is also restricted by laws. We will not wait for that," el-Sissi said.

Action will be taken within days "to enable us to execute the law, and bring justice as soon as possible," he said. "We will stand in the face of the whole world, and fight the whole world."

In a thinly veiled reference to jailed members of the Brotherhood,al-Sisi blamed the violence on those "issuing orders from behind bars," and warned: "If there is a death sentence, it will be carried out."