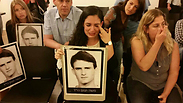 The Tamam family protest the play
A decision by the Haifa municipality to renew its funding to the al-Midan Theater caused uproar on Thursday.

The Arab theater staged a play called "A Parallel Time," which was written by and based on the story of Walid Daka, who is serving time in Israeli prison after being convicted of involvement in the kidnapping and murder of IDF soldier Moshe Tamam in 1984.

The story was made headlines several weeks ago, when the Tamam family protested the Arab theater's decision to stage the play on Palestinians Prisoners' Day.

Following a public outcry, Haifa Mayor Yona Yahav formed a commission to examine the issue, while freezing the funding for the theater until a decision is made in the matter.

The commission determined the municipality must not stop financial support of some NIS 1.25 million to the theater, saying it is important for an authentic Arab theater to continue operating in the city under artistic freedom and the freedom of expression given to all views in the Israeli society.

Yahav adopted the commission's recommendation to continue funding the theater, welcoming it and saying Haifa was a unique cultural city that promotes tolerance.

Related stories:

The Tamam family, meanwhile, was shocked at the decision. "This is not just a decision that hurts our feelings, but an immoral decision according to which the public needs to fund those who celebrate murderers, view them as heroes and want to stage plays for them.

"While Israel mourns the victims murdered in recent days because of the glorification of terrorists and incitement - the Haifa municipality indicates in its decision that the al-Midan Theater is welcomed to start producing, with public funds, plays honoring the murderers of Danny Gonen and Malachi Rosenfeld," the family said.

Yisrael Beytenu leader Avigdor Lieberman was also angered by the decision, calling on Yahav to resign as mayor.

"If Yona Yahav's justification of the fact the Haifa taxpayers' money funds plays that support terrorism and glorify terrorists is that 'Haifa is a cultural city that promotes tolerance,' then Yahav does not understand what culture is and confuses freedom of expression with the freedom of incitement, and tolerance with support of terrorism."

Moran Azulay contributed to this report.