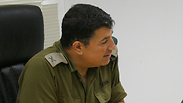 Photo: Alex Kolomoisky
Photo: Alex Kolomoisky
Coordinator of Government Activities in the Territories, Maj. Gen. Yoav (Poly) Mordechai said in an interview with Al-Jazeera Thursday afternoon that Israel had clear indications that Hamas was involved in supporting the Sinai militants who carried out devastating attacks against Egyptian security forces on Wednesday.

The attack, which included a wave of suicide bombings and assaults on security installations by dozens of militants, was Sinai's deadliest fighting in decades. Security officials said dozens of troops were killed, along with some 100 attackers.

Mordechai gave specific examples of Hamas military commanders he said were involved in organizing and supplying the attacks in Sinai, including one who he said evacuated wounded militants from Sinai into the Gaza Strip.

When asked about the extent of Israeli-Egyptian cooperation, Mordechai answered, "Egypt is a strong and independent country. The cooperation is between Hamas and the group that supports ISIS. Hamas' military wing has connections with ISIS, connections in the areas of organization and armament."

Prime Minister Benjamin Netanyahu also addressed the threat of ISIS in the Sinai Thursday during a trip to Be'er Sheva when he said, "The actions that we see from ISIS are nothing compared to the capabilities being built by the Iranian regime. We are standing before two threats, the threat of ISIS and Iran. We don't have to strengthen one at the expense of the other; we have to weaken both of them."