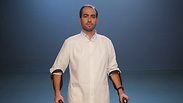 Asael Lubotzky, a 32-year-old from Jerusalem, was directly hit by an anti-tank missile during the Second Lebanon War in Bint Jbeil. Nine years after being in limbo between life and death, Lubotzky will mount the stage at the Hebrew University in Jerusalem next week to officially receive his doctorate degree in medicine.
"Now it's my turn to apply and pass on what I learned to other people," said the young doctor.
Lubotzky was born and raised in the West Bank near Jerusalem, enlisted in the Golani Brigade, and during the war in Lebanon served as a platoon commander in Battalion 51. Hezbollah terrorists fired an anti-tank missile that hit the armored personnel carrier he was in, and as a result he was seriously wounded and had to undergo a long rehabilitation process.
"I was among those evacuating the wounded," recalled Lubotzky. "It was a tough battle in which eight soldiers were killed, including Major Roi Klein and Lieutenant Amichai Merchavya, a close friend of mine."
The injury occurred after two weeks of fighting. According Lubotzky, "We were in a convoy and we entered a missile ambush. Seconds before the missile was launched I stood up to see the battle area. Half my body was inside the carrier and half outside, and that's what really saved my life. The missile hit the front of the vehicle and dozens of pieces of shrapnel sliced through my body, but luckily they hit my lower body. My head and chest were not hit."
Lubotski's injured leg, which was partially attached to his body, slid off the stretcher during the evacuation. "I shouted at one of the soldiers to catch it and tie it to the stretcher. In my heart I had already accepted that my leg was lost."
Upon arrival at the Israel-Lebanon border, medics placed a tourniquet below the knee in order to cut off a smaller part of the wounded leg. Lubotzky was rushed to Rambam Hospital in Haifa, where doctors were able to restore the severed leg in place. Later it was strengthened and extended through muscles that were transplanted from his back. As part of the rehabilitation process he underwent ten orthopedic and plastic surgeries.
"That night I received nine units of blood at the hospital," Lubotzky said recounting the moments when his life was in jeopardy. After being rehabilitated and starting to walk, Lubotzky decided he wanted to be a doctor.
"In my personal experience as a patient, I was moved and excited by the field. I was very interested in physiology and medicine and my desire is that my experience as a patient will contribute to my being a doctor, to have a better understanding of the patient, as far as I can, as one who was in their place."
Unlike others, Lubotzky did not dream of becoming a doctor from a young age. "Before the injury, I took the psychometric entrance test and got a good score so I thought it might be enough for me to study medicine, but it was only an option."
Lubotzky hopes his rehabilitation process will encourage other wounded soldiers. "When I was in serious condition, rehabilitated soldiers visited me, encouraged me and told me that life continues after the injury. Now it's my turn to apply this and pass it on to other people."
Lubotski, married and a father of three, began his internship in pediatrics at the Shaare Zedek Medical Center in Jerusalem two weeks ago: "I chose pediatrics because I like to look at the totality of the person and not one specific topic. I love children, it's a very joyful profession".
Although he uses crutches, the young doctor does not let the physical hardships get in his way. "Yes, it is a little more difficult and complex and I have to spend many hours on my feet. Sometimes the children ask me about my crutches and usually I feel it creates a better chemistry with them. It's even a little less frightening to them than a doctor that comes with a white coat and an official uniform."