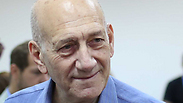 Ehud Olmert
Photo: Noam Moshkowitz
The State Attorney's Office said Sunday that the punishment given to former prime minister Ehud Olmert in the Talansky Affair by the Jerusalem District Court was too lenient, but said it will not appeal the sentencing.

This time, the state is requesting the Supreme Court to sentence Olmert in the Investment Center affair to an active prison term, rather than a suspended sentence, which will be added to the sentence he received in the Talansky affair.

Last March, the Jerusalem District Court convicted Olmert in the Talansky affair of fraud, breach of trust and fraud in aggravating circumstances. The sentence imposed in May was eight months in prison and a fine of $100,000.

The State Attorney's Office asserted that the court should have handed down one sentence for both cases that Olmert was convicted in - the Talansky Affair and the Investment Center Affair. According to the State Attorney's Office, given the nature of the sentence Olmert received in the Talansky affair, the Supreme Court should stiffen the sentence he received in the Investment Center affair.

According to the prosecution, the sentence imposed on Olmert by the court in the Talansky affair is overly lenient, taking into account the serious circumstances, but the state will still not appeal the lenient sentence.
Olmert's legal woes
Talansky affair: Olmert was found guilty of taking hundreds of thousands of shekels for private use while serving as economy minister. Most of this money came from businessman Morris Talansky. The former prime minister didn't report the money to the state comptroller as required by law, and he was found guilty of graft, aggravating circumstances, fraud and breach of trust. He was sentenced to eight months in prison. His attorneys announced that they will appeal to the Supreme Court.
The Investment Center affair: This involved Olmert granting favors in his capacity as a minister to his confidante Uri Messer despite a conflict of interest. Olmert was convicted in 2012 and received a suspended sentence only. The state appealed the lightness of the sentence, and the appeal is pending.
Rishon Tours affair: This case entailed allegations that Olmert was double and triple-billing trips abroad sponsored by Jewish institutions, and either pocketed the difference or financed trips for relatives. In 2012, Olmert was acquitted of any wrongdoing. The appeal is pending in the Supreme Court, but the judges have already hinted that they would not intervene.
Holyland Affair: Investigations found that during his tenure as mayor of Jerusalem, Olmert accepted bribes to overlook building codes for the construction of the Holyland buildings in the capital.
Ehud Olmert was convicted of receiving NIS 560,000 ($160,000 US) in bribes. He was acquitted of two other charges of bribery. The judge rejected Olmert's version of events, declaring that he had lied to the court. The Tel Aviv district court sentenced him to six years in jail. His appeal is being heard in the Supreme Court and the sides are awaiting a decision.