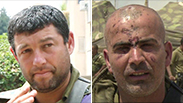 Ofer Winter and Rassan Alian
Chief of Staff Gadi Eisenkot recently announced the establishment of a commando brigade that will consolidate four of the IDF's most elite Special Forces units: Maglan, Duvdevan (both currently affiliated with the Paratroopers Brigade), Egoz (affiliated with Golani Brigade) and Rimon (affiliated with Givati Brigade).

The decision comes as part of the IDF's multi-year "Gideon" plan, meant to increase Israel's efficiency and ability to respond in crisis situations. The brigade will be subordinate to the IDF's 98th Paratroopers Division or Fire Formation.

In addition, Eisenkot decided to promote field commanders who led the fighting in Operation Protective Edge. The outgoing commander of the Givati Brigade, Ofer Winter, will be promoted, as well as the commander of the Golani Brigade Rassan Alian.

Winter will rise in rank to Brigadier-General and will be promoted to Chief of Staff of the central command while Alian will also rise to the rank of Brigadier-General, and will become the chief infantry and paratroops officer.

An IDF spokesperson statement on the decision to establish the brigade said that the move would strengthen the Special Forces by increasing cooperation and communication, turning the IDF's elite into an even more effective response team during emergency protocol. During appointment discussions held Monday in the IDF, it was decided that Colonel David Zini, who is currently the operations officer for the Central Command, will become the brigade's first leader.

The separate units that will be transferred to the brigade are expected to continue functioning independently, or in conjuncture with brigade-level combat teams, and not as one fighting unit. The character and the operational purpose of the units is not expected to change, and the IDF said the goal of the unification is to affix every unit with a purpose relevant to the current terrorist threats.

The new brigade draws further parallels between Israel's Special Forces and those in the US, as the model of unified command mirrors that of the Ranger brigade in the US Special Forces.