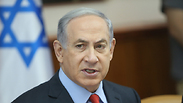 Photo: Alex Kolomisky
Photo: Alex Kolomisky
High Court judges voiced disapproval Tuesday of Prime Minister Benjamin Netanyahu's political maneuvers that left him in control of multiple government ministries in wake of April's elections, saying that the policy opposed the Basic Law: The Government.

In an attempt to save open positions for Labor representatives in case a unity government was formed, Netanyahu chose to appoint a foreign minister, health minister, communications minister or regional cooperation minister, taking on the positions himself while naming deputies to these ministries.

The judges made their message clear during a discussion on a petition filed by the Yesh Atid party in May, calling for Deputy Health Minister Yaakov Litzman to be fired, on the grounds that his appointment was illegal.

After the petition was filed, the State drew up an outline of what Netanyahu hoped would be an acceptable and clear division of duties between himself and the health deputy, but Yesh Atid officials called the outline a "deception" and continued calling for Litzman's removal.

Judge Hanan Melcer explained during the discussion that, "A prime minister can't be a minister at all. In the previous draft of the Basic Law: Government, there was an article that said that a prime minister could be appointed to a ministry but in the updated Basic Law: Government, they took away this article."

The court decided that Yesh Atid will present the judges with an amended petition next week. A lawyer representing the party said they would seek to remove the prime minister from all of his ministerial positions.