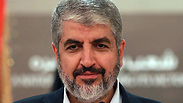 The leader of Hamas, Khaled Mashal, said Wednesday that Israel has sent messages to the group through a European intermediary, asking the organization to return the bodies of two soldiers in their possession since Operation Protective Edge.

According to Mashal, Hamas told the intermediary that the organization will not conduct negotiations with or supply any information about the two soldiers until Israel releases Shalit swap prisoners who where re-arrested.

Staff Sergeant Oron Shaul was killed in the "Golani Tragedy" in Saja'iyya on the 20th of July 2014. Six of his friends where killed in the attack and Shaul was declared as missing. Five days after the incident, then head of the IDF's manpower directorate, and current Chief Military Rabbi notified the family of Oron's death.

Sec.-Lt. Hadar Goldin was killed in an incident which would later be dubbed the "Black Friday," in Rafah. The commander of the Givati reconnaissance company, Major Benaya Sarel, and his radioman Sergeant Liel Gidoni where killed in the incident as well. Goldin was declared missing, and later declared dead, as a result of brave actions by Captian Eitan Pond, which brought forward the evidence necessary to assume he had died.

This is not the first time Hamas has claimed the existence of indirect talks with Israel to return the bodies. Last October, a member of Hamas's political echelon, Mohamed Nazal, said that there had been preparations to open a channel of indirect negotiation between the sides. Nazal claimed that the negotiations would begin soon; however, there has been no evidence of active negotiations between the group and Israel.

Mashal also made it clear that he had not drafted or presented Israel with a long term cease fire agreement. He clarified that current efforts where aimed to strengthening the cease fire agreement which was signed in Cairo, in exchange for rehabilitating Gaza.

According to Mashal, Hamas representatives met with European and international officials in Qatar, among other places, in order to advance the rehabilitation of Gaza. With that said, Mashal stated that the efforts are not a substitute for armed resistance. "Gaza can hurt Israel and can explode at any moment."

The Hamas leader added that his organization will not accept any plan that divides the West Bank from "Palestine." In relation to Hamas's policy in the West Bank, Mashal said that the agenda was to strengthen the standing of the Palestinian people, and aimed to preserve unity and resistance against the occupation. He also called for the advancement of the process of Palestinian unity.