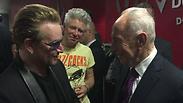 Bono and Peres. 'We know we can count on you'
U2 frontman Bono is known for his extensive relations with a variety of leaders and important politicians. Now he has added Shimon Peres to his list of friends, and has even dedicated a song on stage to the former Israeli president.

The event took place on Monday during the Irish rock band's concert in Toronto, Canada. A moment before performing "One," one of U2's greatest hits, Bono chose to dedicate the song to Peres, who was in the audience.

"Nobel peace laureate Shimon Peres is here in the house tonight," Bono told the audience. "And we understand, President Peres, that you have tried to be the voice of reason and that you've dedicated a lot of your life, all of your life, to trying to bring peace in this really dangerous region.

"We wish you and your family safe, and we wish that you who worked so hard in Oslo for that incredible Oslo Accord, that you don't give up on the two-state solution. Age 92, we know we can count on you. And we're going to sing this song with two ancient peoples in mind. This is called 'One.'"

At the end of the concert, Peres and Bono met backstage, where the former president told the musician: "You are a point of hope and the greatest voice of peace. God bless you."

Bono embraced Peres and replied, "We feel blessed. Thank you for blessing us with your presence here. You're trying to make peace, we just sing about it."