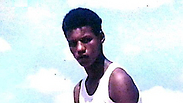 Hamas has refused to confirm or deny Israel's claim that it was holding two Israeli citizens captive, but had no problem to take a jab at the Israeli government and accusing it of racism in a tweet on Thursday.

"Obviously, the real Israeli motto is 'leave no Ashkenazi man behind,'" one of Hamas' Twitter accounts posted, seemingly pointing to the great public efforts Israel made to release IDF soldier Gilad Shalit from Hamas captivity, while the fact Abera Mengistu from Ashkelon went into the Gaza Strip ten months ago was so far known only among the Ethiopian community.

At first, the leaders of the Israeli Ethiopians' protest decided to keep quiet about Mengistu so as to not sabotage efforts to secure his release, but during the last demonstration, some protesters were seen wearing shirts with his name.

"We wanted to lay the groundwork gradually before the release to the media," protest leaders told Ynet.

Even this morning, after the gag order was lifted and the news of Mangistro's disappearance into Gaza became public, the leaders of the Israeli Ethiopians' protest chose not to comment, honoring a request from the family.

They said that at first, authorities were slow to deal with Mengistu's disappearance and the family received updates on the situation only from junior officials.

Even though the protest's leaders decided not to publicly address the story, there has been continuous chatter on the Ethiopian community's Facebook pages about it.

"This story is being silenced because he's black and it's not interesting," one person wrote.

"If I cross the border into hostile territory and my army identifies me but doesn't stop me because I'm black - meaning, looks like an Eritrean - does this make it racism?" another wondered.

Over the past few days, many Israeli Ethiopians changed their profile pictures on social media to a photo showing Mengistu's name, with a question mark.

Former MK Pnina Tamano-Shata, who has been accompanying the family, said on Thursday that she was contacted by Mengistu's brother shortly after Abera crossed the border into Gaza.

"His brother contacted me on Facebook and asked for my help. Since then, we've met several times and I realize there's a very complicated situation here," she said.

Tamano-Shata added that she accompanied the family to their meeting with Defense Minister Moshe Ya'alon.

Israel has in the past engaged in prisoner swaps with Hamas, most notably in 2011, when Gilad Shalit, a soldier abducted by militants in a cross-border raid in 2006, was released in exchange for more than 1,000 Palestinians held in Israeli jails.

Dozens of those ex-prisoners have been rounded up by Israel since, outraging Hamas, which signaled that until they were freed again it would refuse to respond to Thursday's charge that it was holding two Israeli captives.

Israel is separately seeking the return of the remains of two soldiers killed during last year's war with Hamas.

"There will be no talk about a prisoner swap before Israel releases all Palestinians who were re-arrested in the West Bank after they had been freed in the 2011 Shalit deal," Mahmoud al-Zahar, a top Hamas official, told Reuters.

Reuters contributed to this report.