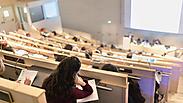 Illustration
Photo: Shutterstock
US federal authorities raided the campus of the Michigan Jewish Institute (MJI) in Detroit, a college offering academic studies for Jewish students, American media outlets reported this week.
According to media reports, authorities suspected that the institution fraudulently obtained federal financial aid for Jewish students, many of whom took online courses while still living in Israel. The majority of students never completed their studies, despite the generous government subsidies.
Around 15 federal agents participated in the raid on MJI offices located in the suburb of Southfield. Witnesses said the agents gathered staff into a conference room, collected their personal belongings, and sent them home. According to one witness, the agents arrived with a truck and empty cardboard boxes in preparation for seizing documents.
While the motive for the raid has not been officially disclosed, media sources reported that the institution was suspected of fraud.
The past decade has seen a sharp uptick in the number of students enrolled at the college, and the federal funds it received skyrocketed during the same period – including federal Pell Grants for low-income students. Pell Grants totaling $25 million were allocated for MJI students.
The Forward newspaper reported in 2012 that thousands of students had signed up for online courses, most of whom lived in Israel and also studied at yeshivas and seminaries.
They all studied Judaism, according to the Forward, and most neglected to complete the degrees in which they had enrolled and for which they received government grants.