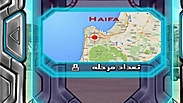 From the Iranian mobile phone game 'MIssile Attack'
Photo: Fars
Iran launched a new game for mobile phones called "Missile Attack" to mark the International Jerusalem Day (al-Quds Day), which simulates a missile attack on Haifa.
"The anti-Zionist game shows Iran's missile capability," said one of the game's developers, Mehdi Atash Ja'am, to Iranian news agency Fars. "In the game, players break the air defense system and harm Israel."
Atash Ja'am added that the development of the game came in response to another game, where players attack targets in Tehran.
On Friday, the day the new game came out, Iran and other Muslim countries celebrated al-Quds Day, which is held every year on the last Friday of Ramadan.
Iranian President Hassan Rouhani joined the marchers and said: "Today there are disagreements and cracks in many countries and terrorists are making life difficult, and this is without a doubt done with the support of the Zionist regime and the hegemonic forces."