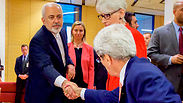 Iranian and US negotiators in Vienna
Photo: Reuters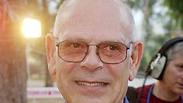 Prof. Uzi Even
Photo: Shaul Golan
If you think that Iran wont uphold the nuclear deal signed in Vienna (because the Iranian regime has been caught lying in the past, right?) I recommend you stop reading at this point. I am sure the deal that was signed is preferable to the current situation because it delays Iran's ability to develop a nuclear bomb by at least 15 years and in practice ends its nuclear aspirations. Don't believe me? Look at the facts.

Current Iranian uranium enrichment infrastructure is estimated to include about twenty-thousand centrifuges at two main sites (Natanz and Fordow). Most of the centrifuges are of the older type (IR-1) and the rest are the newer type (IR-2), which are three times more efficient. The Iranians currently hold 10 tons of low, or 3.5% enriched uranium, which they have stockpiled over the last decade. The 10 tons of uranium is enough to create about ten atomic bombs, which are based on high or 90% enriched uranium. In practice, if the Iranians wanted to, they could have already conducted a nuclear test.

Iran already has the know-how and infrastructure to manufacture nuclear bombs, which on paper, will grow at a rate of a few bombs every year. Over the last few years Israel has attempted to delay or revert this ability through both covert and overt means, to little effect. Even the military option would not change the current situation completely; it would only delay the Iranian nuclear program by two years at most.

Obama's Policy

Op-ed: Obama proved that creative diplomacy can win, that it's possible to reach a groundbreaking deal which can change the course of history without bunker-busting bombs and without the wisdom of cruise missiles.

So what has changed? The agreement that was signed between the powers and Iran delays the Iranian nuclear program by 15 years at least, and maybe more. The deal was written by nuclear experts and blocks every path I know to the bomb. The Iranians may be celebrating, but they have in fact swallowed a very bitter pill, more so than they would like to let on.

In analyizing all the details of the agreement it can be seen that Iran has committed not to attain nuclear weapons, by any path available to them, and cannot enrich uranium above the lowest level or 3.67%. Iran must also ship abroad all of its current uranium stockpiles above 300 kilograms, which is not enough to manufacture even half of one weapon. Additionally, the number of uranium enrichment centrifuges will drop to 5,060 (at Natanz), all of which will be of the older and less efficient type.

Iran's current facilities will be forced to change: the underground facility at Fordow will not split uranium at all; the reactor at Arak, which is the most feared due to it's ability to manufacture a plutonium bomb which can be put onto a missile, will be redesigned so that it becomes impossible to enrich military grade plutonium there. Iran also had to guarantee it would not attempt to produce uranium at any of its current reactors.

Above all, the powers wield the power of sanctions, so every aspect of the agreement is tied to close inspections by the IAEA, and requires the organizations annual renewal. In simple terms, a violation of the deal will lead to new sanctions on Iran, hence my confusion regarding the staunch resistance inspired by this deal, especially among non-radical elements in Israeli politics.

It seems to me that everyone jumped to attention before they even knew the agreement's details, maybe due to the Iranian's past agreement violations. But would they really violate the deal moments after signing it, only to return to a sanctions regime that they love so much?

Prof. Uzi Even is a physics professor at Tel Aviv University and served as a scientist at the Dimona reactor.